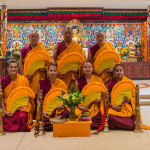 TIBETAN BUDDHIST MONKS IN CLEVELAND
A RARE AND SPECIAL OPPORTUNITY!

Loving Hands Yoga and Reiki is honored to host the Cleveland visits of Tibetan Buddhist monks on their national tours. The monks are refugees from Tibet, touring the United States to raise funds for their monasteries. To be in the presence of these wonderful people, and learn from their wisdom, is truly a rare gift.
August 14, 7-9pm, "World Peace and the Unity of all Religions" Lecture
Loving Hands Yoga and Reiki, 2959 Hampshire Road, Cleveland Heights, 44118 (216-408-5578) Suggested donation: $15
August 16, 6:30-8:30pm, "The Six Perfections – Ethics, Patience, Effort, Concentration, Wisdom, and Generosity" Lecture
The Ideal Method, 6595 Brecksville Road, Suite 3, Independence, 44131 (216-536-9426) Suggested donation: $15
August 17, 7-9pm, "The Four Noble Truths" Lecture
Sacred Rebel Yoga, 3619 Walton Avenue, Cleveland, 44113 (216-804-5708) Suggested donation: $15
Programs and events are now being booked. Please check back for updates.
If you would like to book an event, please contact Judith Eugene at 216-408-5578 or Judith@LovingHandsGroup.com
All donations for programs and events are tax-deductible. The monks also bring Buddhist and Tibetan handicrafts for sale at each event. Cash and checks are accepted.
---
Previous Tours
December 2015 – Labrang Tashikyil Monastery
September 2015 – Gaden Shartse Monastery
November 2014 – Gaden Shartse Monastery