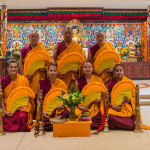 TIBETAN BUDDHIST MONKS IN CLEVELAND
A RARE AND SPECIAL OPPORTUNITY!

Loving Hands Yoga and Reiki is honored to host the Cleveland visits of Tibetan Buddhist monks on their national tours. The monks are refugees from Tibet, touring the United States to raise funds for their monasteries. To be in the presence of these wonderful people, and learn from their wisdom, is truly a rare gift.
OCTOBER 17-21, 2018 LABRANG TASHIKYIL MONASTERY
All events are open to the public and all donations are tax-deductible. Reservations are required. The monks also bring Buddhist and Tibetan handicrafts for sale at each event. Cash and checks are accepted.
If you would like to book a personal or group event, please contact Judith Eugene at 216-408-5578 or Judith@LovingHandsGroup.com
Click here for available programs to book for your group
Click here to go to the monks' website

SCHEDULE OF EVENTS
DATE & TIME
PROGRAM
LOCATION
SUGGESTED DONATION
Wednesday, October 17, 7:00-8:30 pm
Meditation Instructions with Sacred Mantras
***For reservations call 440-459-2296
Shadybrook,
6563 Wilson Mills Road, Suite 102
Mayfield Village, OH 44143
$10
Thursday, October 18, 7:00-8:30 pm
Green Tara Four Mandala Offering
***For reservations call 216-804-5708
Jewel Heart Tibetan Buddhist Center - Cleveland
2670 W 14th St, Cleveland, OH 44113
$10
Friday, October 19, 2:00-5:00 pm
Private event
The Studio Cleveland
1395 W. 10th St. Cleveland, OH, 44113
Friday, October 19, 7:00-8:30 pm
Seven Limb Prayer
***For reservations call 216-804-5708
Sacred Rebel Yoga
3619 Walton Ave
Cleveland OH 44113
$10
Saturday, October 20, 9:00 am
Tibetan Prayer Flag workshop
***For reservations call 216-804-5708
Sacred Rebel Yoga
3619 Walton Ave
Cleveland OH 44113
$20
Saturday, October 20, 10:00 am
Tibetan Yoga with Monks
***For reservations call 216-804-5708
Sacred Rebel Yoga
3619 Walton Ave
Cleveland OH 44113

$20
Saturday, October 20, 3:00-5:00 pm
Tibetan Prayer Flags
***For reservations call 440-429-6914
The Studio Cleveland
1395 W. 10th St. Cleveland, OH, 44113

$10
Saturday, October 20, 7:00-9:00 pm
Workshop of Buddhist Practices
***For reservations call 440-429-6914
The Studio Cleveland
1395 W. 10th St. Cleveland, OH, 44113
$10
Sunday, October 21, 9:30 - 10:30 am
Members Only Breakfast
Songtsen Gampo Buddhist Center of Cleveland
14023 Madison Ave
Lakewood, OH 44107

Sunday, October 21, 11:00 am - 12Noon
Meditation Instructions with Sacred Mantras
Songtsen Gampo Buddhist Center of Cleveland
14023 Madison Ave
Lakewood, OH 44107

$10
---
Previous Tours
August 2018 – Gaden Shartse Monastery
December 2015 – Labrang Tashikyil Monastery
September 2015 – Gaden Shartse Monastery
November 2014 – Gaden Shartse Monastery