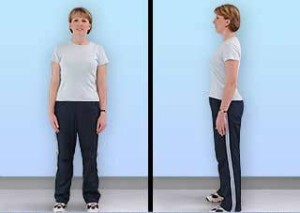 Individual Posture Training available
at my studio or at your location
We know we are supposed to have "good posture" but we don't always know how to do it.
Learn the guidelines for maintaining good posture while standing, sitting, walking and sleeping.
This one-on-one training will help you correct the not-so-good habits you may have gotten used to.
It will also teach you how to internalize what good posture feels like so you can correct those habits on your own. And you'll learn all the reasons why it's so important!
Individual Posture Training at the Studio: $60 (one hour).
For the cost of Individual Posture Training at your location, please contact me.