"If people heighten awareness of their inner states, then they are more apt to come up with new ways of creating a better world."  – Mirabi Bush
---

Many of us feel as though we are working harder than ever, investing a great deal of our time and energy in our work.  While dedicating ourselves to our work is a noble cause, we must also be careful to preserve our health and well-being in the meantime.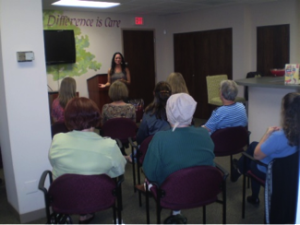 Loving Hands Yoga and Reiki visits offices and business to help employees and management teams learn how to better approach their work tasks by creating better health of body, mind and spirit.  We help our clients maintain energy, peace and balance despite workload demands and interpersonal challenges.
We can help you design an ongoing program, or provide one-time training and special event seminars, depending on your needs.  All classes are one hour unless noted otherwise.
Introduction to Yoga
~ Yoga is for EveryBODY
Many people are hesitant to try yoga because they don't think they can do it "right". But really, anyone can do yoga! Learn about the many ways that yoga can be easily and seamlessly adapted for various conditions and levels of ability, while still providing exceptional benefit.  We will also discuss how yoga helps with strength, flexibility, balance, endurance and relaxations.  Participants will also learn the yoga principles of acceptance, non-judgment, and mindfulness; which helps you to achieve peace and healthy patterns of thinking. (Two hour program if yoga class is also included)
 Yoga and Posture Classes
~ Morning Wake-Up Yoga
Having trouble getting going in the morning? Looking for a healthier alternative to coffee? Learn a quick and easy routine you can do at home to boost your energy, get your joints and muscles moving, and jump start your day. Even if you are not an experienced yogi, you will be able to do these poses. We will also learn breathing techniques that can be used to energize you during that afternoon slump, or calm you after that challenging meeting.
~ Lunchtime Active Yoga
~ After-Work Relaxation Yoga
~ Coffee Break Stretching
A healthy and gentle wake-up for the body and mind. Participants will learn stretches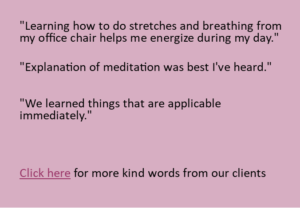 and simple yoga poses that they can do on their own to keep their muscles limber, their joints moving, and their minds clear.  They will also learn breathing techniques that can be used to energize themselves during that afternoon slump, or calm themselves when they are feeling upset or agitated.
~ Posture Made Perfect
We know we are supposed to have "good posture" but we don't always know how to do it. Learn the guidelines for maintaining good posture while standing, sitting, walking and sleeping. This class will help you correct the not-so-good habits you may have gotten used to. It will also teach you how to internalize what good posture feels like so you can correct those habits on your own. And you'll learn all the reasons why good posture is so important!
Reiki
~ What is Reiki?
Reiki is an ancient form of healing touch therapy that provides physical, mental and emotional healing.  Participants will learn how Reiki works, how a session is conducted, what results you can achieve, and how Reiki is being used at several local hospitals and hospice organizations.  We will also discuss how you can become "attuned" to be able to give Reiki treatments to yourself and others.  Short Reiki sample treatments can be given, depending on the size of the class.
~ Coffee Break Reiki Treatments
Individual 10-15 minute Reiki treatments to help with stress, concentration, and balancing emotions.  It can often help employees to gain a more positive outlook about their work, be more tolerant of co-workers, and get through their day with less emotional disruption.  Employees can be treated in a chair right at their work stations.
~ Reiki Level 1 Class/Attunement
(One-time, 7 hour class including 1 hour lunch break)
Learn how to give a Reiki treatment to yourself, other people and your pets.  You will become "attuned" to the Reiki healing energy and learn hand positions for providing treatments.  We will also discuss intuitive and shamanic healing methods, and how to incorporate crystals and aromatherapy into your treatments.  This class is taught in the traditional Usui Reiki method. (Note: Level 2, 3 and Master classes are also available – please inquire)
Meditation
~ Meditation Made Easy
Meditation helps to quiet the mind and release us from worry. For many people, though, the goal of clearing our mind of thought seems impossible to attain. This class teaches easy methods to meditate, and how to incorporate it into everyday life. Students will learn how, where, when and, most importantly, why to meditate. The relaxation and peace of mind students learn in this class will help them maintain more relaxation and peace in their daily lives. We will practice different types of meditation throughout the class.
Positive Living
~ How to Succeed in Business by Doing the Right Thing
Taking the time to return phone calls, write thank you notes, and show personal support to your clients and co-workers can go a long way toward establishing your good business reputation. Learn how to set yourself apart from the crowd by practicing simple acts of kindness, even if you are busy. We will discuss simple, time-saving tools for doing the right thing.
~ Every Day Stress Relief
We are often pulled in many directions, trying to balance our work responsibilities with the rest of our busy lives.  This leaves little time or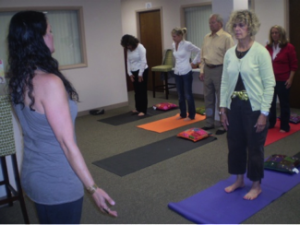 energy to care for ourselves.  Learn techniques for staying healthy and balanced amid the pressures of your responsibilities.  We will discuss several methods for taking care of ourselves holistically – body, mind and spirit.  We will also practice a short meditation technique at the end of class.
~ Positive Conflict Resolution
Learn how to approach challenging situations with clients and co-workers in a healthy way.  We will discuss how to respond instead of react to potentially frustrating words and actions.  Methods for positive thinking, acceptance, and decision making will be presented.  We will also learn how to be conscious of the language that we use to express ourselves, to avoid misunderstandings and conflict.
~ Making Lemonade From Lemons
Learn how to overcome difficult life challenges such as grief, divorce, health issues, loss of a job, moving, stressful situations and challenging people.  We will discuss different methods for coping with these issues through positive thinking, empowering speech, and a gratitude-focused approach to life.  Learn to be happy and optimistic no matter what comes your way!
~ Feng Shui for Healthy Energy in Your Office
Learn guidelines for creating healthy energy, balance and harmony in your home, apartment and workplace using this ancient Chinese decorating technique. Participants will learn how the placement of furniture and accessories can enhance the energy in each room, which has a positive effect on both the space and its' inhabitants.  We will learn how color, shape, and material have an effect on positive energy.  And we will also discuss the difference between "yin" and "yang" features, and how to balance them to create a pleasing harmony. (Individualized Feng Shui consultations also available, please contact us).
Click here to go to our "Positive Living" page with other inspirational classes.