For appointments call or text 216-408-5578
Appointment hours are Monday-Thursday 9am-7pm,
Friday and Saturday 9am-6pm

Click here to learn more about Reiki and how it works

My Reiki sessions are two hours long. Before the treatment I invite you to discuss your physical, mental, emotional, spiritual, and life concerns, and I provide you with guidance to help resolve them. I help you clarify and set your healing intentions, to start the healing process. After the treatment I share with you what I felt and sensed during the session, and tell you the messages I received from your spirit guides, and what they mean.
     The Reiki treatment itself is one hour long, and can be longer if less discussion is needed beforehand. I treat your physical body as well as your aura, chakras, and meridians, to balance and heal your body, mind and spirit. I balance your yin and yang energies, and help you with grounding. I also incorporate crystals, aromatherapy, sound healing, and shamanic breathwork in the treatment, to supplement the vibrational balancing work of the Reiki.
     You don't need to do anything special to prepare for your session. However you might wish to wear comfortable clothing that allows you to relax.
If you are new to Reiki I recommend three treatments, 7-10 days apart, if possible. This enables you to get past the natural thinking and analysis of the mental mind so that you can gradually ope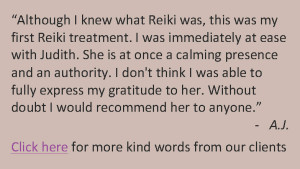 n up, relax, and draw a maximum amount of energy by the third treatment. I especially recommend this for clients with ongoing health issues or recent injuries or illness. I understand that time and budgets don't always allow this, so I also offer single sessions. All clients do receive wonderful benefits from just a single session.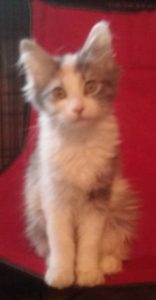 Graceful-Reiki
The studio is home to a fabulous Reikitty named Gracie. She is a natural healer who loves to lay on the table and give you Reiki. If you are not a "cat-person" or are allergic to cats, no worries, I can keep her out of the studio.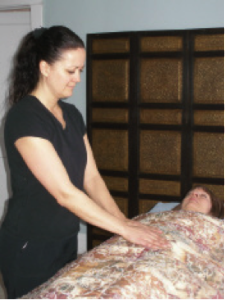 In-Studio Treatments:  $90 for one session or $260 for a 3-session package. Please scroll down for my payment and cancellation policies.
$90 for one session
$260 for three sessions
---
Treatments in Your Home: The price is the same as for studio sessions, for travel within 15 minutes of the studio. Please contact us for a quote if you are further away. Please scroll down for my payment and cancellation policies.
$90 for one session
$260 for three sessions
---
Distance Treatments: I can send a Reiki treatment to you, wherever you are. Distance treatments provide the same effects and benefits as a hands-on treatment, and I provide all of the same counseling services as I do with in-person treatments. All you need to do is relax and receive! I can also send a distance treatment to your pet, friend or loved one. Please scroll down for my payment and cancellation policies.
$90 for one session
$260 for three sessions
Reiki works for pets too! Click here for more information.
Payment and Cancellation Policy: You can pay for your sessions by clicking the PayPal buttons above, calling me with a credit card, or dropping off cash or a check (please make checks out to Judith Eugene Wellness). A 5% service charge will be added to credit card and PayPal payments. Please note that your appointment date won't be reserved until I receive your payment. If you cancel with at least 24 hours notice, you can apply your payment to a new date or receive a refund (less any service charges). Cancellations with less than 24 hours notice are not refundable.