"Every moment is a new chance and a new beginning." – Swami Vivekananda
---

Reiki is a gentle touch technique for relaxation and stress reduction, that also provides physical, mental and emotional healing.  All animals benefit from Reiki – mammals, birds, rodents, reptiles and fish.
Reiki helps animals with issues such as
Abuse Recovery ~ Allergies ~ Anxiety ~ Arthritis
Behavioral Issues ~Depression ~ Diabetes ~ Fear
Grief ~ Hyperactivity ~ Illness ~ Injury ~ Over-Dependency
Pre-Vet and Pre-Surgery Anxiety ~ Post-Surgery Healing
End-Of-Life Transitioning
The treatment is conducted in your home or barn because that is where your pet feels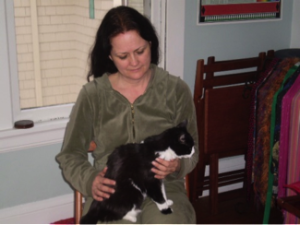 most comfortable and safe. Sessions last up to 60 minutes, depending on your pet's needs that day and their desire to accept the treatment.  The Reiki is offered in a non-invasive manner, allowing the animal to choose either a hands-on or hands-off treatment.  So even the
most fearful or traumatized animals will usually accept a treatment.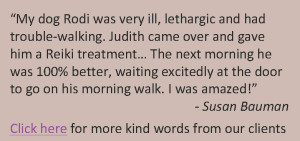 Because animals cannot speak and help us develop the best treatment plan, animal Reiki experts have found that animals benefit most from receiving three sessions in a row, 7-10 days apart if possible.  The effects of Reiki are cumulative and this kind of treatment plan provides a strong foundation for healing.  You can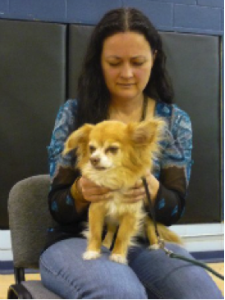 then follow up with subequent treatments as-needed.  The three sessions are recommended for all animals, but are especially beneficial for animals with chronic health conditions or recent illness or injury.
Cost: $75 for one session / $215 for three sessions
These costs are for one-hour sessions.  If your animal is having a challenging day and is unwilling to accept a full hour session, we will reduce the cost accordingly (minimum charge $60).  These costs are for travel within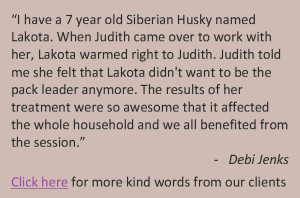 15 minutes of the studio. Please call us for a quote if you are outside that radius.
You may pay by cash or check at your appointment or pay below through PayPal (PayPal service charge has been added.)
Please note that cancellations with less than two hours notice will be charged for a full session
$75 for one session
$215 for three sessions