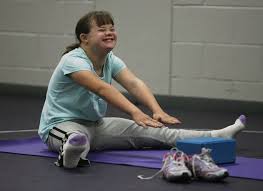 COVID-19 UPDATE: Our community integration classes are temporarily on hold until they are allowed again by the state. We are offering Zoom classes in the meantime.
As centers begin to reopen, we are available for in-person classes. We will be following the state and CDC protocols regarding COVID-19, and limiting class size in order to maintain six foot distancing.
We offer community-based adaptive yoga programs for children and adults with disabilities at various locations in the Cleveland area. We have both seated and standing classes available.
We create a supportive place for being who we are. We create achievement by offering options for each pose, and encouraging each student to work to the best of their ability, whatever that might be. We accept that each person is wonderfully different and unique. Most of all, we focus on abilities rather than disabilities.
Please contact us for more information 216-408-5578.
Please also visit our sister organization The Loving Hands Group to learn about yoga, Reiki, Positive Living and many other programs for those with disabilities. The Loving Hands Group brings the classes to you, and we also offer community integration programs.
---
"Unique Yoga Class For A Special Group Of People"
Channel 19 News (Feb 2016)
Click below to watch the video
---
"New Program Offers Yoga for Disabled Adults"
The Heights Observer (Nov 2015)
Click below to read the article