"If people heighten awareness of their inner states, then they are more apt to come up with new ways of creating a better world."  – Mirabi Bush
---
COVID-19 UPDATE: The studio is back open for in-person classes! I am also continuing to offer classes by Zoom for those who prefer to stay distanced, and for those who live out of town.
For in-person classes I will be following the state and CDC protocols regarding COVID-19, and limiting class size in order to maintain six foot distancing.
For Zoom classes you will need a yoga mat, and a yoga strap or a long scarf. You might also want to have a pair of yoga blocks, and a blanket or towel to protect your knees.

Yoga does not have to be complicated or scary in order to work! We teach do-able yoga that brings great results without making you feel like you're "out of your league". We challenge you without embarrassing you.
You also don't necessarily have to be thin, bendy,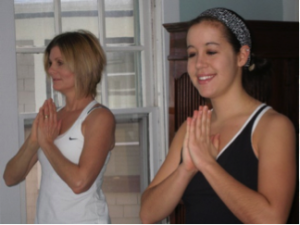 and athletic to do good yoga. Classes are available for people of all levels of ability. No previous experience is necessary.
Our classes are small and personalized. This allows us to continually observe each student, making sure that everyone is getting the maximum benefit from the class and is practicing safely.
Why Choose Us?
We realize there are many choices for yoga in the Cleveland area.  Our home-based studio has a decidedly different feel than larger commercial studios.  Neither environment is necessarily "better" – just as your yoga practice is personal and individual, so should be your choice of studio.
Our classes are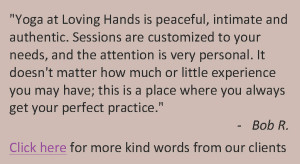 friendly and supportive, and are held in a bright and open studio space. The house has wonderful energy and is very calming and welcoming.
Yoga at Loving Hands is more like a private class with friends, allowing you to connect more deeply with the instructor and with your fellow yogis.  For many it also leads to a deeper connection with, and understanding of, your practice.
You are welcome to try a class before joining to see if the small, home-based studio feeling is right for you and your practice.